Escape the ordinary and experience something new with Locum work!
Locum jobs allow you to experience coastal, regional and rural areas of Australia and New Zealand.

Doctors working in all medical specialties partner with Global Medics to find the most rewarding locum jobs for many reasons. Whether you're looking for a short-term locum while traveling or studying, or as a semi-retired doctor, or searching for more long-term or regular locum blocks, our team will get to know your preferences and help you find the perfect locum contracts.

When you work with Global Medics, you can enjoy:

1. Extensive networks. Leverage our preferred medical recruitment supplier status in every state. We're first to receive new locum shifts with hospitals and medical practices that we have partnered with for years, so your application is seen first.

2. Personalised Locum Doctor Service. Talk to us about your medical career goals and lifestyle as a locum doctor, so we can find the best jobs for you. Our goal is to partner with you throughout your medical career - from registrar to specialist and consultant level. Relax while our team coordinates interviews with healthcare employers and manages the offer process for you.

3. Compliance team expertise and support. Receive assistance from our in-house compliance team who are experienced with all paperwork, migration, sponsorship, AHPRA / MCNZ and more, to help you start work as soon as possible.
If you haven't tried locum work, why take the plunge?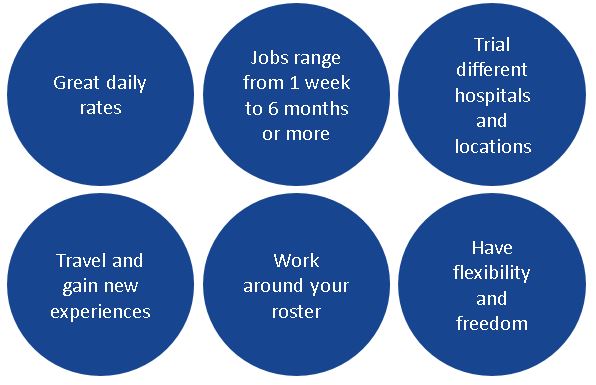 Find the most rewarding locum physician jobs across all medical specialties - Anaesthetics, Emergency Medicine, General Practice, General Medicine, Intensive Care, Psychiatry, Surgery, Obstetrics, Gynaecology, Paediatrics.
Register and one of our locum recruitment consultants will be in touch.